We build these quick videos so you can how to access the key features of your system easily. If there is anything you would like us to add just let us know.
This series of short 'How To' videos show you quickly and simply how the main features work.
Quick heads up!: Your screens might look a little different than those shown in the video, but it will work exactly the same
Using Surveys
---
Surveys let you get feedback from the people who use your service and their friends and relatives. They are essential to support your compliance assertions and great feedback surveys highlight how well you are doing in delivering a quality service. ---
Adding Evidence
---
Evidential Assurance is the mainstay of inspection evidence, illustrating to inspectors that you are in control of the service you are providing. Well organised and immediately availble reports are key to demonstrating a well run service and give you peace of mind that you have an effective management process in place. ---
Using Action Plans
---
Action Plans focus your resources on areas that need more work. It is a very true statement that bodies such as the CQC dont always expect everything to be perfect, but they do expect you to know about issues and to have a plan in place to remendy things. ---
Using Audits
---
Audits let you get immediate feedback from your stakeholders and then links the responses directly to the appropiate standard. So when you need to review your compliance you get everything you need in one place immediately. Note: Some of the screens in this video might look slightly different than those on your live system due to variations in different users configurations. However the main features are the same and work in the same fashion. ---
Using the PIR Assistant
---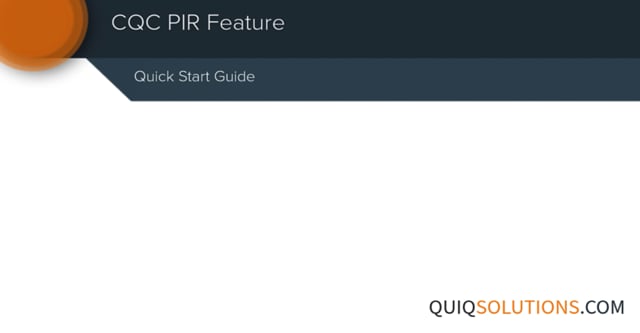 ---
---
If you would like to see any more quick start guides we haven't placed here just let us know and we'll get right on it.